Organized every two years by airfield owner and warbird enthusiast Tom van der Meulen and supported by an incredible team of helpers and volunteers, the Oostwold airshow has now firmly established itself as the foremost warbird airshow in Holland. Oostwold airfield is located in the north of Holland, close to the German border and hence many enthusiasts from across the border find their way to the event as well.

In it's ninth edition the airshow is clearly going form strength to strength bringing together a great variety of acts from wingwalking to high performance solo and formation aerobatic acts and the main historic aircraft teams from the Low Countries putting up many elsewhere unseen formation displays. Add to this a great line up of WWII warbirds and you're in for a party!

The OV-10 Bronco was paired with the Dutch Thunder Yak aerobatic team flying three Yak-52s, providing a few unusual formation passes before the start of the Bronco solo display.

There were many highlights. The unique Fokker Four team, a four aircraft aerobatic formation display with ancient Fokker S11 trainer aircraft, deserve a special mention, as does the one hour warbird only block with several P40s, Mustangs and culminating in a not soon to be forgotten four ship Spitfire display.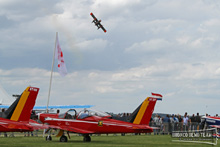 The airshow has a very unique flair as it is held at a small grass airfield with all facilities and aircraft available within an easy five minute walk. The sun is in the back all day for easy viewing. The aircraft are parked only meters away across the fence and re-enactors add much value to the displays. It makes for a true total aviation immersing experience in a most friendly atmosphere.
Well done Tom! With great thanks also going to Wout Peterse and the great band of volunteers and helpers! We are looking forward with great anticipation to the tenth edition.