Szeged, a beautiful town in the south of Hungary, invited us for their International Airshow. Our first trip to Hungary ,we enjoyed to the fullest and really fell in love with Szeged, the nice town with its beautiful buildings, nice people and great restaurants. It was to no surprise, that our stay was longer than originally planned - with the highlight of a three day airshow, packed with alot of great performances and new ideas.
Another "first" for the Bronco Demo Team, Ruth, Thomas and Markus arrived by airline, while Tony and Edith arrived by Bronco. The Bronco went from Belgium to Budaörs, arriving at the old airport of Budapest, home of various vintage airplanes including the worlds only flying Lisunov Li2. A photoflight was set up over the town of Budapest, before heading south to Szeged. We had a very warm welcome at the airfield, meeting old friends, alot of new friends or people for the first time, that we only knew via Facebook, since years.
For the size of the airfield, they offered quite an amount of participants! It was an impressive show from hot air balloons to jets and one highlight chasing another. Red Bull flew in with 4 aircraft and displayed in their usual high standard routine with Lightning, Corsair, B25 and Trojan. Normally you expect a show to be finished at sunset, but this is, when the party in Hungary only starts. There was an amazing helicopter display of a Mil Mi2 with a "one of a kind" fireworks show. Followed by the amazing Johan Gustafsson and his stunning glider aerobatic fireworks show!
The only flying Lisunov Li2 offered sightseeing flights to see Szeged at night, while a big screen offered a wonderful open air cinema with "Top Gun", "Planes" and other movies, followed be an impressive tone and light show with music, smoke and laser. A FIA hot air balloon rallye arrived at the airfield and we also were entertained by an amazing flying display of a Boeing 737 that arrived in formation with a L29 Delphin and Red Bull's P38 Lightning.
Boarding the airliner back home raised the question, is it really the right direction? Guess we all had that feeling, as the Bronco did also not went home direct, but with a stop at Lake Balaton for some more days. Sure, all of us would like to return! It was also fun to hear about us in the radio, even if we did not understand much more than airshow & Bronco Demo Team. Another trip, to remember!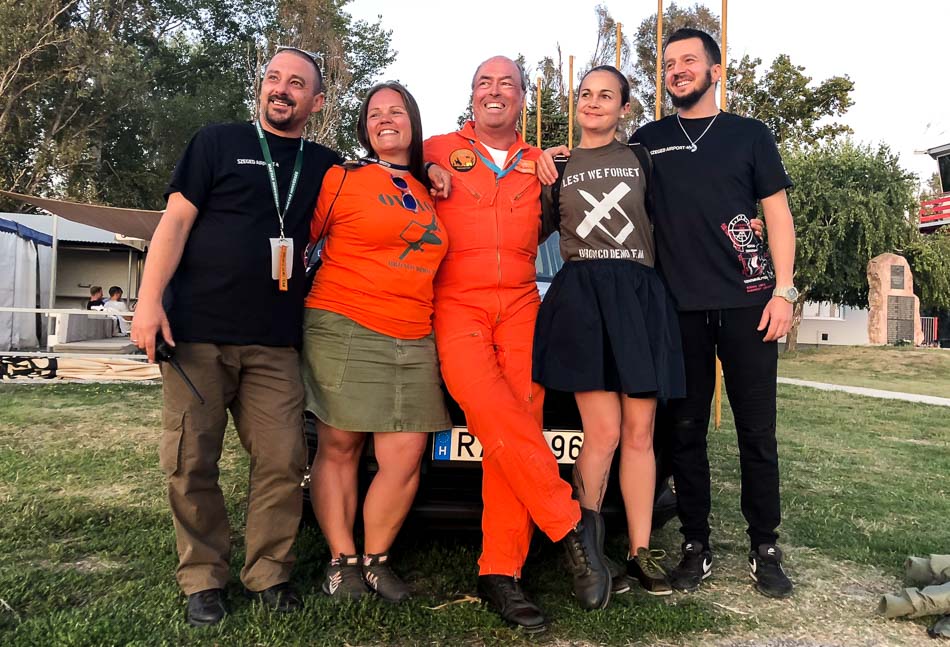 Text: Markus Rheinländer | Photo: Markus Rheinländer; Thomas Viertbauer